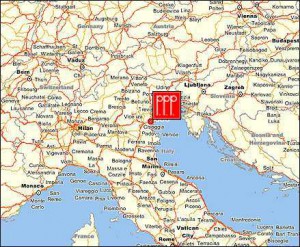 Head office,production plant, warehouse, marketing and technical office are located in the Headquarter in Via Torino 184 Mestre (Venezia),Italy.
PPP is located in a strategic area close to A4 motorway, railway station and Marco Polo intl. Airport (VCE)
And only 10 minutes away from Venice.
GPS 45° 28,3596 N – 12° 15,3677 E
P.P.P Prodotti Poliplastici srl – Privacy protection
Privacy protection
P.P.P. pays special attention to protection of its customers privacy on network because we know the importance everyone gives to personal data protection.
For this reason we think it's very important to tell the consumer some fundamental points.
When you place an order through our site you must provide some personal informations such as name, e-mail, address, telephone number.
These data allow us to process the order as well as to inform you about its progress or of any mishaps.
Personal data management
It's possible to add some additional informations such as date of birth etc., in order to be able to adequately identify products and services most suitable to P.P.P. customers.
Your data will be processed manually and electronically, only to respond to your requests, (catalogue, informations or material).
Under Legislative Decree 196/2003 (art. 13), the person concerned has the right to access the registers of guarantor.
The person concerned has also the right to obtain informations about his personal data and to request their cancellation, blocking, updating, rectification, integration and oppose the treatment, by contacting the owner of the treatment: P.P.P., via Torino 184, 30172 Mestre Venezia, tel. +39 041 5310150 fax + 39 041 5312826 c.p.   78 Mestre Venezia.
For this purpose we are giving below:
Information pursuant to Legislative Decree 196/2003 on the personal data protection.
Dear customer
We inform you, in accordance with art. 13 of Legislative Decree 196 June 30, 2003 "Code regarding the protection of personal data" relating to the protection of persons and other subjects regarding the processing of personal data, that informations provided by you or otherwise acquired in our operations, will be handled in compliance with the above provisions and the obligations of confidentiality which inspire P.P.P. activities.
Processing of personal data means the collection, recording, organization, storage, processing, modification, selection, extraction, comparison, use, interconnection, blocking, communication, diffusion, cancellation and distribution or the combination of two or more of these operations. Data controller is P.P.P.
Your data, limited to full name, telephone number and e-mail address, will be used for istitutional purpose, connected or instrumental to our Company's activities such as:
1) To perform a service or one or more contractually agreed operations, including those mentioned in art. 8 "Protection of the General Sale Conditions Privacy", as well as the proposition of expansion of the service to additional performances eventually activated after the signing of the contract proposal;
2) To perform, in general, legal obligations, descending from your requests;
3) For operational or management reasons, internal to P.P.P. and service-related, with particular but not exclusive reference   to P.P.P. accounting, obviously with your prior consent. For the purposes given above Legislative Decree   196/2003 considers the exclusion of consent: the lack of your personal data, in fact, make impossible to finalize the contract. P.P.P. also collects your personal data for the following purposes:
4) To collect socio-demographic informations such as year of birth, sex, nationality, language spoken, marital status, family unit composition, in order to supply a personalized and excellent service;
5) To give information on a product or a service by P.P.P. or by one of its partners or other opportunities of your potential interest;
6) To develop aggregate statistics about sales, customers, traffic, patterns and other informations and communicate them to third parties. The statistics don't include any information which could lead to the identification of customers. For these purposes data supply is optional and require customer's agreement.
We confirm that your data will not either communicated or disclosed to third parties at any time and will be treated with both electronical and paper mode in compliance with safety instructions as referred in art. 31 and ss of Legislative Decree 196/2003.
Law recognizes you many rights which you can exercise by writing to the legal representative domiciled for the office at P.P.P., via Torino 184, 30172 Mestre Venezia.
Following is the text of art. 7 of Legislative Decree 196/2003 regarding your rights in data processing.
Art. 7 rights of the person concerned: "right of access to personal data and other rights".
The person concerned has the right to obtain confirmation about the existence of his personal data, even if not yet recorded, and their communication in a readable form. The person concerned has the right to obtain information:
a) about the origin of personal data;
b) about the purposes and methods of treatment;
c) about the logic applied in case of treatment with the help of electronic instruments;
d) about the identity of the owner, supervisors and   the representative appointed according to art. 5, paragraph 2;
e) about persons or categories of persons to whom data may be communicated or who can learn about them as appointed representative in the State territory, responsible or appointed.
2.
The person concerned has the right to obtain:
a) updating, rectification or when interested, integration of data;
b) cancellation, anonymation or blocking of data processed unlawfully, including data whose retention is unnecessary for the purposes for which they were collected or subsequently processed;
c) the certifications that the operations in letters a) and b) have been notified, also as regards their content, to those to whom data were communicated or disclosed, except where such compliance is impossible or involves a manifestly disproportionate use of resources                       to the protected right.
3.
The person concerned has the right to object in whole or in part:
a)
for legitimate reasons to the processing of personal data concerning him,   if proper for the scope of the collection;
b)
To the processing of personal data concerning him for the purpose of sending advertising material or for carrying out market researches or commercial communication.