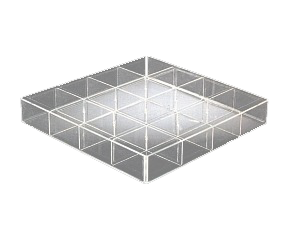 P.P.P.
- flexibility
- quality
- design
The Company was founded 1951 and now is managed by a young and vibrant staff.
Creativity is our strong point, together with great teamwork and a dedication to the creation of new items which fire the imagination, we aim to meet requirements of our Customers and to help them sell better and more.
The excellent results achieved over the years drive us forward.
"Innovation, reliability, creativity, the readiness to rise to the challenge. These are our strong points, points which are recognized and appreciated by our Customers every day.
Above all PPP is passion for great teamwork".
MICHELA MANZELLI, owner PPP
Today we find ourselves leader in the field of shopfitting and displays, with a strong presence in Italy and abroad.
Our Customers – supermarkets and hypermarkets, outlets, franchsises, boutiques and also small retailers – confirm the high quality and functionality of PPP products, which are born in strong technical collaboration with marketing teams and visual merchandisers.
PPP is a manufacturing system with its roots in italian and venetian tradition, but also with a forward looking approach which allows us to always achieve the best solutions and guarantee excellent quality.
A successful system supported by continuous technical innovations along with professional care and experience built over the years.
Great values developed over time, the starting point for future success.