False ceilings inspection is a very important variable at the design stage, as it's always necessary sooner or later.Plasterboard and the like show their limits, making the demolition of large portions necessary.Frame false ceilings are linked to the limitations of the structure (T24) 595×595 that is not removable.Metal grids are difficult (not to say impossible) to restore after maintenance and what you see in malls, offices, restaurants, are falling and sloping panels.
PPP false ceilings are installed in an unique way: no other has hooks along the edges to ensure a single seamless surface, while inspection is allowed at any point by simply unlinking the panels.
After maintenance (air conditioning, lighting, planting, etc.), just hang up panels to perfectly recreate surface, which is impossible, for exemple, with any metal grid false ceiling.
Thanks to the high quality thermoplastic materials used, the opening/closing operation can theoretically be done infinitely.
For some meshes, the smaller ones, the operation is slightly more difficult, due to the size of the grid holes (mesh mm. 20×20 or 40×40) which don't allow sufficient access to some operators or maintainers.
EAnd it's here that PPP has developed from a concept to the finished product, a special dedicated tool (provided free of charge on request), which easily opens and closes the false ceiling.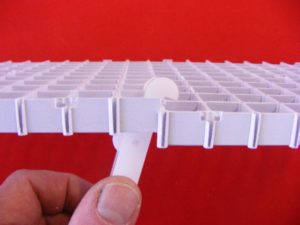 And here are the simple instructions: after identifying the junction line and the opening direction, using the special lever tool the grid opens magically and you can create the gap access "window" of 4/6 panels size.
You just have to put the disassembled panels on the rest of the false ceiling, leaving them connected to their suspensions.
After inspection, reset the "window" and carefully hang up the 4 sides.
https://www.ppp.it/wp-content/uploads/2017/05/12.jpg
852
1280
redazione
https://ppp.it/wp-content/uploads/2015/01/logo.png
redazione
2017-05-23 06:31:41
2017-08-01 13:33:43
Inspection: an added value